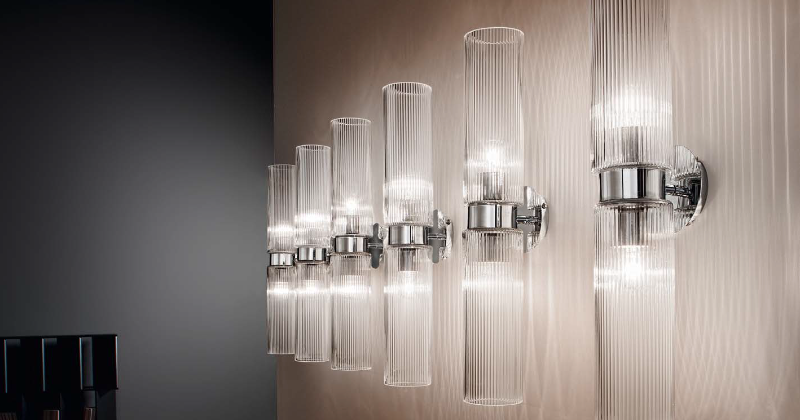 Choosing the wall light for your home: the excellence of Murano glass
Murano glass is one of the most envied Italian excellences in the world, synonymous with history, craftsmanship and manufacturing experience. Since the fifteenth century the skilled glass masters of Venice gathered on the island of Murano, so as to territorially preserve the artistic discipline and not to reveal any secrets or tricks of the trade. The glass trade was also strictly and rigorously controlled, and any traffic outside the island was forbidden, with the aim of jealously guarding the raw material of furnishings and chandeliers of the nobility. Over the centuries the Murano glass manufacture has evolved and specialized in many specialties, such as the famous decorative murrine and many different techniques for blowing glass and obtaining spectacular results. Today, Murano glass has become part of our homes and of the most refined interior design, as in the creations of Murano Glass Shop , the online boutique in which to buy true excellence for your own style home.
Murano glass applied to lighting
As a nineteenth-century architect, Mies Van der Rohe, father of Minimalism and proponent of the current of European Modernism together with Gropius and Le Corbusier said, God is in the detail and in the particular , therefore it is you must carefully choose the furnishings and accessories of your home. Lamps and lighting systems play a significant role which, nowadays, are increasingly varied and cared for down to the smallest detail. This is the case of the murano wall lamps made of the finest hand-blown glass: these small wall-mounted ceiling lights , compact and precious, are the ideal accessory to dress up your own apartment with character and personality. White, transparent or colored, the murano glass wall lamps are entirely handmade and are exclusive accessories for a deluxe home. On the online shop Murano Glass Shop you can choose your favorite light source, evaluating between different collections of wall lights and plafonnier with a thousand colors, declined in a color palette ranging from more sober and delicate shades, up to bright and vitaminic shades.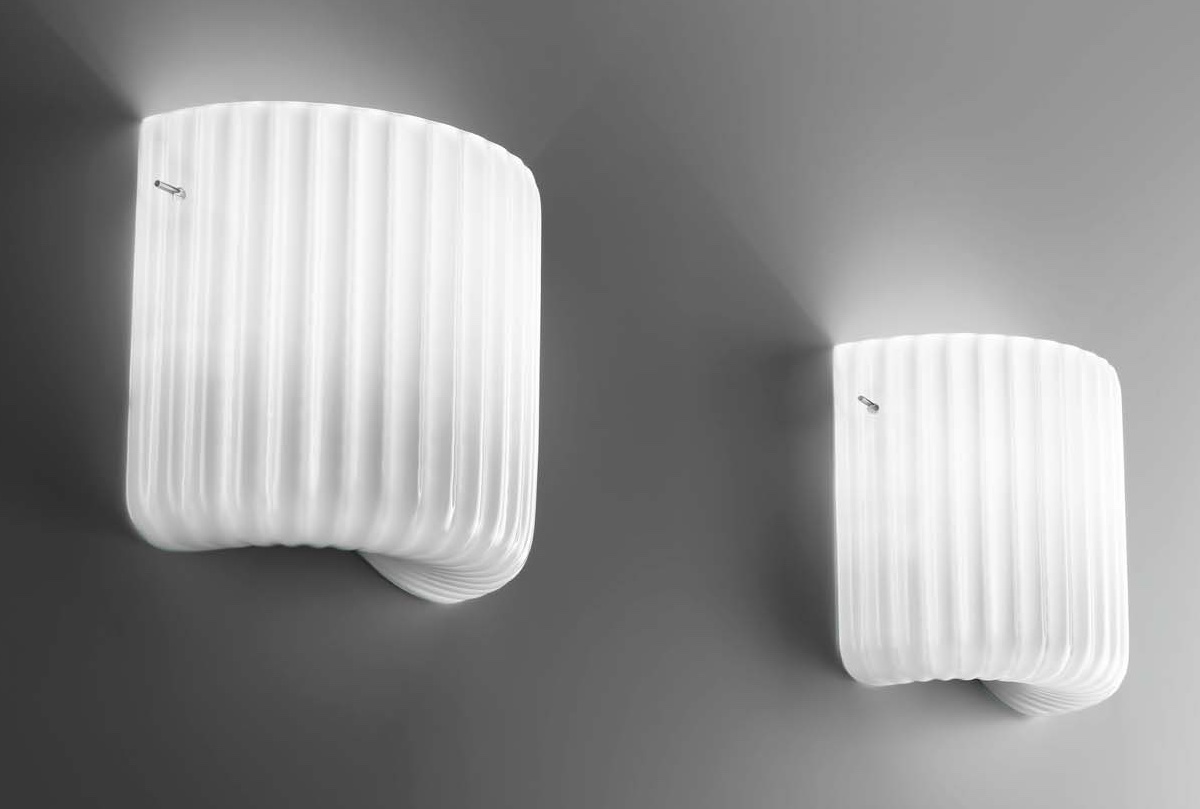 Continuing with the reading, all the murano glass wall lamps collections will be presented on the site , with a specific eye to the technical and historical-artistic characteristics. In the content tab you can also evaluate some style tips and the most glamorous combinations inspired by the major interior designers in circulation.
wall light Mask
The Mask collection stands out at first sight for its classic blown glass cylinder shape , personalized by a series of grooves that contribute to giving a sense of lightness and transparency, like fresh water from a stream . Thanks to this undulatory movement, the wall light create magical and fascinating plays of light, full and empty spaces. The light points of the Mask collection are available in two moods, in pleated denim and in crystal milk white. They are perfect for furnishing a refined and glamorous environment, for a deluxe bathroom or to welcome guests in a truly elegant entrance. The pleated design generates very interesting and vibrant chiaroscuro, perfect for a chic and reserved environment, with intimate and introspective notes. The color palette in shades of blue-sky blue and white so pure , is sober, delicate, always suitable for any dress code and any environment, from the living area to the sleeping area.
Sweet wall light
The Sweet wall light collection in Murano glass recalls the shape of a flowered corolla, with that curvy line of the petals that contains all the feminine charm inside. It is luminous wall lights made with the ancient technique of mold, inspired both by the sea waves and by the confectionery of bon bon and cream puffs. Through the casing method, the basic milky white glass is dressed in a thousand vibrant shades, declined in so many nuances that it will be almost impossible to decide. A flower, a luminous hydrangea to hang on the wall in a luxurious living room or dining room with an aristocratic style: the wall lights of the Sweet collection are available in amethyst, ivory, crystal, ocean, gray, denim, smoky colors and of course, in milky white so sober and at the same time bright. By hanging these wall lights on the walls, you can create romantic and suggestive light games, and restore all the charm of a seabed and corals that dance to the movement of the waves.
Orseolo wall lamp
This collection, which takes its name from an ancient patrician family, always available on the online boutique Murano Glass Shop , is inspired by the designers who have made gold and chrome their trademark factory: a distinctive feature that recalls that Mediterranean splendor that travels back in time and a deliberately eccentric and voluptuous style, but never rude and out of place.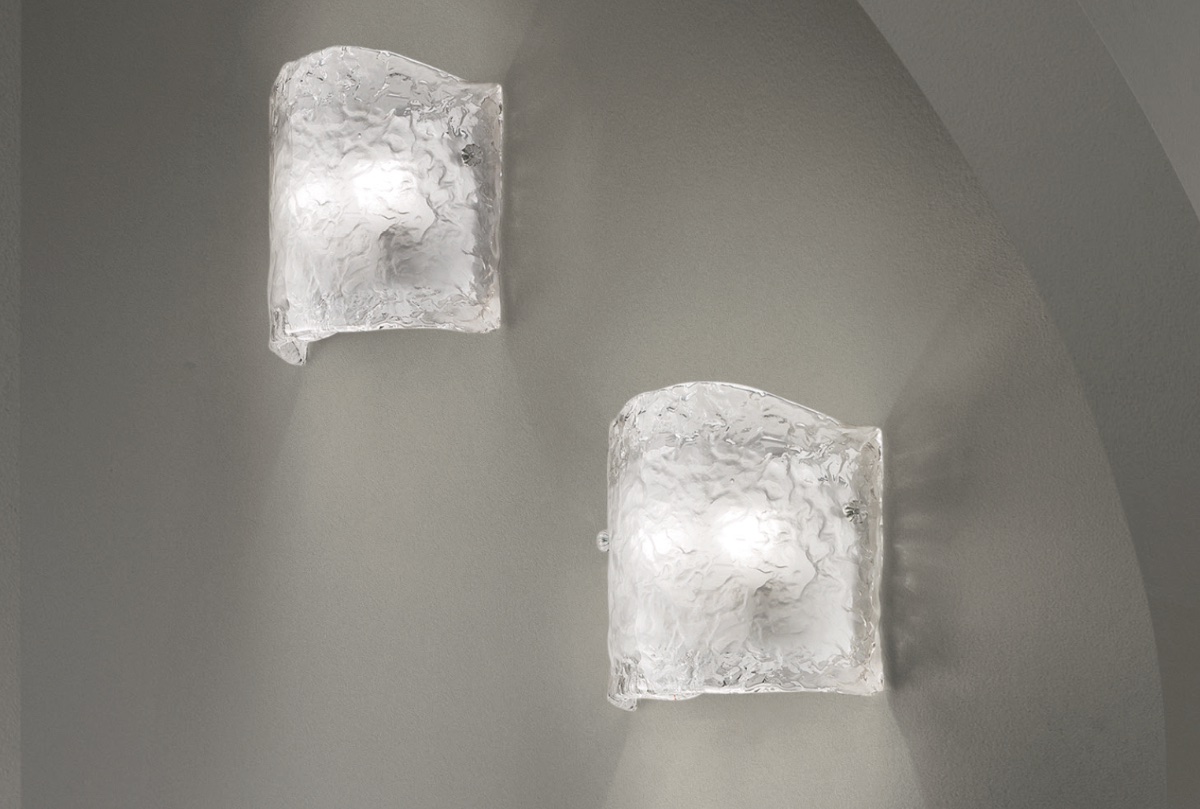 The
wall light Orseolo
stand out for the perfect combination of geometric design and tone-on-tone shades that are more material and pictorial. The result is a
minimal chic plafonnoier
but at the same time of character, with those fascinating matt shades obtained thanks to the
sandblasting technique
: the transparency of the glass support thus lights up with a kaleidoscope of reflections in opaque crystal, amber and 24kt gold. In metal and precious Murano glass, these wall lamps are also made strictly by hand with artisanal care: they are really very special and almost reminiscent of lace and lace work, transformed into luminous threads that light up the walls and ceiling. They are also perfect in a deluxe bathroom, in a stateroom and certainly in an environment that should not go unnoticed.
Sphera wall lamp
Sphera is the wall lamp that vaguely recalls Edison's light bulb, that flash of genius that distinguishes revolutionary ideas. Creative and design, it has a very particular rounded and curvy shape that also refers to the world of shells found on the shore. With a modern and contemporary taste, Sphera is declined in shades of amethyst, smoky, submerged amber, milk white, crystal: you can also choose the matt shades of ocean milky white and the orange version, almost a reference to Pop Art. Sphera, perfect as a wall lamp for the dining room , the bathroom and the kitchen, it has a distinct Mediterranean taste and is also available in the murrine palette, a real gem of Murano glass.
Ducal wall lamp
Ducale is the plafonnier worked with finishes in golden metal, glass and crystal made in Italy of prestige: the decoration a amber grid is applied by hand. Simple, but effective, the Ducale wall lamp has a Venetian style reminiscent of the lagoon and the buildings that are reflected in the water. It is perfect for a stately beach house and an apartment furnished in warm and enveloping tones.
Loredan wall lamp
This precious wall lamp looks like a cup emerging from the wall, ideal for medium and large elegant settings; will be enchanted in a living room or in a dining room representation in which to celebrate social events and ceremonies. Loredan is made of crystal and 24kt gold, available in a truly precious and aristocratic palette, in the chrome tones of crystal, crystal and gold, amber grit and crystal grit. The handmade wall light offers truly spectacular light effects, suitable for a formal and elegant setting, perhaps furnished in Art Nouveau and Rococo style, the period of maximum splendor of applied arts.
Bembo wall lamp
This unique and exclusive collection, precious and very elaborate, is inspired by the famous Venetian cardinal: it is characterized by phytomorphic forms and by suspended corollas like celebratory crowns, of great aesthetic impact. The Bembo wall lights guarantee a sure effective result and are available in one or two two lights , in the following stylish finishes: crystal dew, amber grit, transparent crystal grit and the two great classic 24kt gold and matt crystal.
Manin wall lamp
Manin is the collection of knitted wall lights with an evocative lead pendant : the lamp is not hand-painted, but embellished with a particular and difficult hot-melt coloring. br> This is another prestigious line available on the Murano Glass Shop online shop.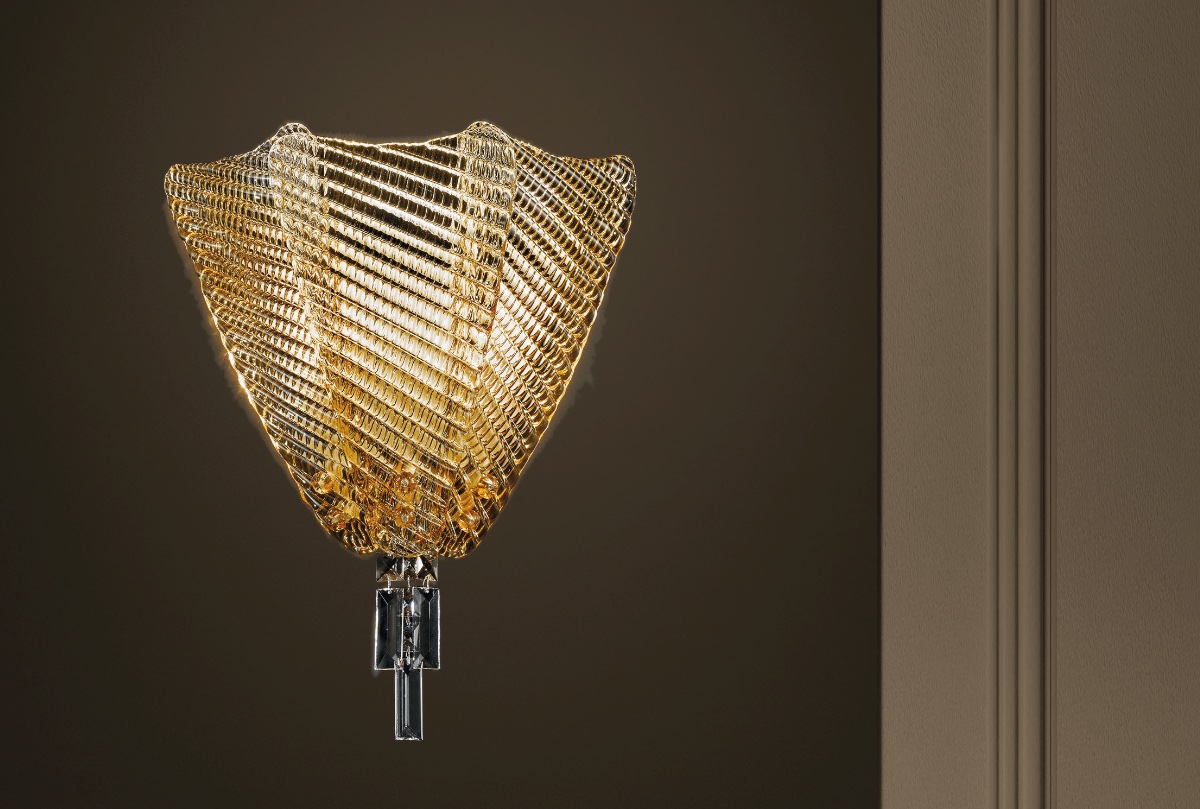 The Manin wall lamps are distinguished by a delightful butterfly wing shape and are made in three shades, amethyst, crystal and amber. They are perfect for a
minimal environment
but at the same time personalized, and to give a touch of character to a contemporary dining room.
Foscari wall lamp
With the wall lights of the Foscari collection in Murano glass we reach very high levels of decoration, through 3D cups and phytomorphic details in perfect Liberty and Art Nouveau style. The line oscillates between contemporary design and a clever reworking of a taste vintage that undergoes a really interesting restyling. An innovative stylistic code conceived for today's environments in which design reigns, for an open-space and for a free-plan location that requires a focal point of light. The secret lies in preferring modular and design furniture, but to focus on a single contrasting accessory that catalyzes the attention and makes people talk about themselves.
Many collections of wall lights for as many styles
The lamps and murano glass wall lights are accessories of high caliber, unique and rigorously handmade: they release all the beauty of the ancient Venetian manufacturing art and of that handmade which is re-evaluated as a synonym of care and excellence.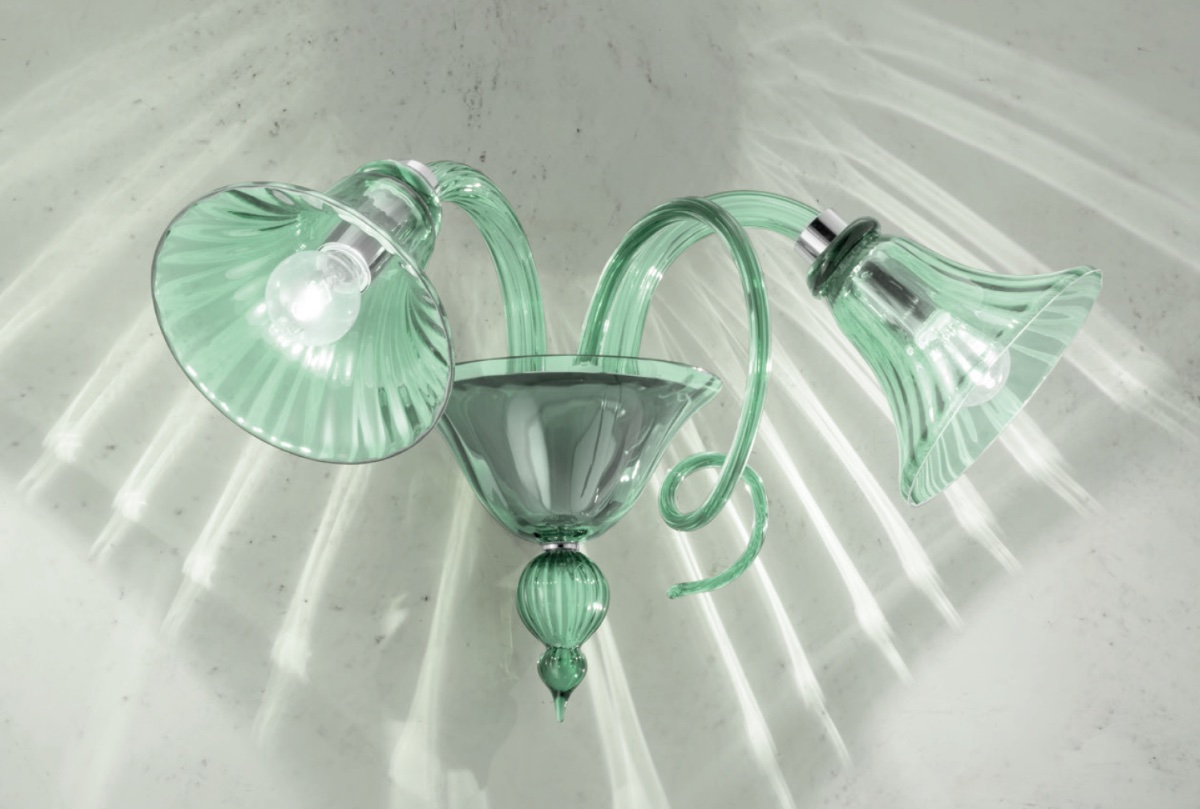 In addition to the collections presented so far, the Tribuno, Lanterna, Teodato, Pagnacco and Dolfin lines are also available on Murano Glass Shop, without forgetting the finely handcrafted Roma series, the Gocce mood and the two-light Eliakim wall lamps. From the very names of the collections you can perceive clear references to palaces, illustrious personalities and historical places closely linked to the territory: this means the vital link with Venice, Murano and the
Serenissima
, center of centennial culture merchant nerve center that has always connected all places in the world. In such a unique and multifaceted scenario, even the Murano wall lamp collections reflect a myriad of styles and dress codes, from the most minimal to the decorative, from contemporary innovations, to Art Decò renewed in a new and glamorous look. The decorative aspect of the gondolas, a souvenir that only Venice knows, and the crystal drops that intercept evocative plays of light: these quotes perfectly match the functionality of the
murano glass wall lights
, furnishings that in a small volume light up the room with light and elegance.
Other from uor blog...
---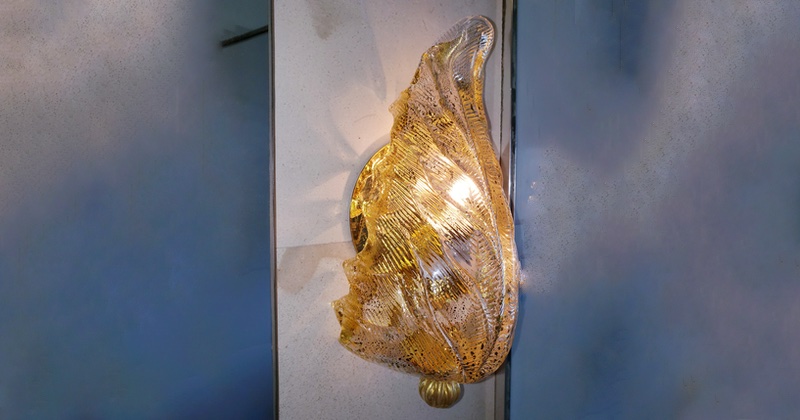 Installation of wall lights ceiling lamps and murano chandeliers in the bathroom
Customers often ask us questions about the possibility of installing wall or ceiling lights in the bathroom. On this page we only want to give general information as we remind you that the installation of electrical appliances must be carried out by an experienced electrician, do-it-yourself is ..