Rezzonico
From: $15,776.56 $3,155.31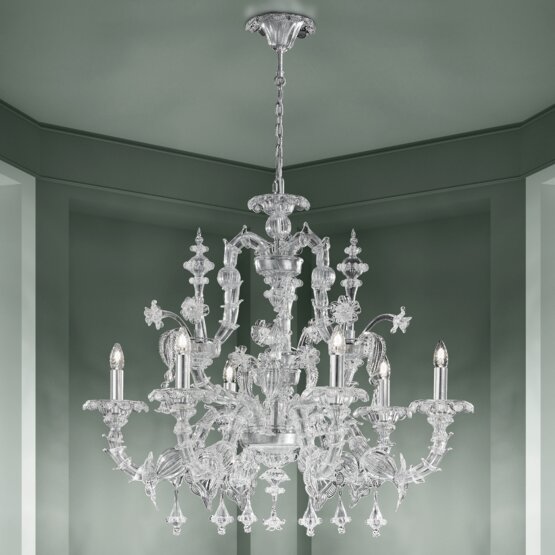 Rome
From:
From: $5,092.60
The Rome Chandelier is an exquisite lighting fixture that showcases the elegant craftsmanship of Murano glass. This chandelier features a stunning Rezzonico design, characterized by its classic and intricate details. With its grand size and magnificent composition of glass elements, the Rome Chandelier adds a touch of opulence and sophistication to any space. Its timeless beauty and unique charm make it a statement piece that effortlessly elevates the ambiance of any room.
Ca' Rezzonico Easy
From:
From: $3,819.45
The Ca' Rezzonico Easy is a stunning chandelier designed by renowned Italian glassmakers, Murano Glass Shop. Made from exquisite hand-blown Murano glass, it features a classic Ca' Rezzonico design with intricate details and elegant curves. The chandelier showcases a perfect blend of traditional craftsmanship and contemporary aesthetics, making it a timeless addition to any space. With its easy installation process, this chandelier offers a hassle-free way to add a touch of luxury and sophistication to your home or office.
Enguetta
From:
From: $6,939.96
The Enguetta chandelier is a stunning lighting fixture that epitomizes elegance and sophistication. Crafted with exquisite craftsmanship, this chandelier features a beautiful combination of hand-blown Murano glass and delicate metal accents. Its intricate design showcases a cascade of glass elements, creating a captivating visual display when illuminated. Perfect for adding a touch of luxury and class to any space, the Enguetta chandelier is an exquisite statement piece that will enhance the ambiance of any room.
---
Chandeliers for luxurious environments
On board my ships it was customary to celebrate one of the most ancient Venetian traditions, the marriage with the sea, in a symbolic union between the insatiable human aspiration and the forces of nature.
My name is therefore imprinted in history, destined to be remembered forever, I am the quintessence of the Art of Glass. The North Star destined to shine forever, the impeccable synthesis of the canons of harmony and perfection. Simple are the materials that thanks to human ingenuity have given me these features that are famous all over the world. They are not an object, but one of the symbols of Venetianism par excellence.
What differentiates a Rezzonico chandelier from a traditional one?
A Rezzonico chandelier has a particularity, it wants to be the most beautiful and important. It is a chandelier that wants to be very rich in details, almost opulent in its most classic conception. Technically, however, the differences compared to a classic Murano chandelier can be seen for example in the arms; normally the arms of Murano chandeliers are made up of a single glass part, in Rezzonici chandeliers the most evident peculiarity is that of the presence of the crystal "bossette" that cover a metal structure that must be very resistant to support the weight of the glass and ornaments. To achieve an opulent and extremely luxurious style, castles and / or crests were also inserted from where further ornaments such as leaves or flowers in crystal and gold departed.
Rezzonico chandelier in the modern era
MGS chandeliers have been redesigned to adapt to modern environments and above all to non-princely sized rooms, so we have created a series of smaller sized chandeliers that also adapt to modern homes .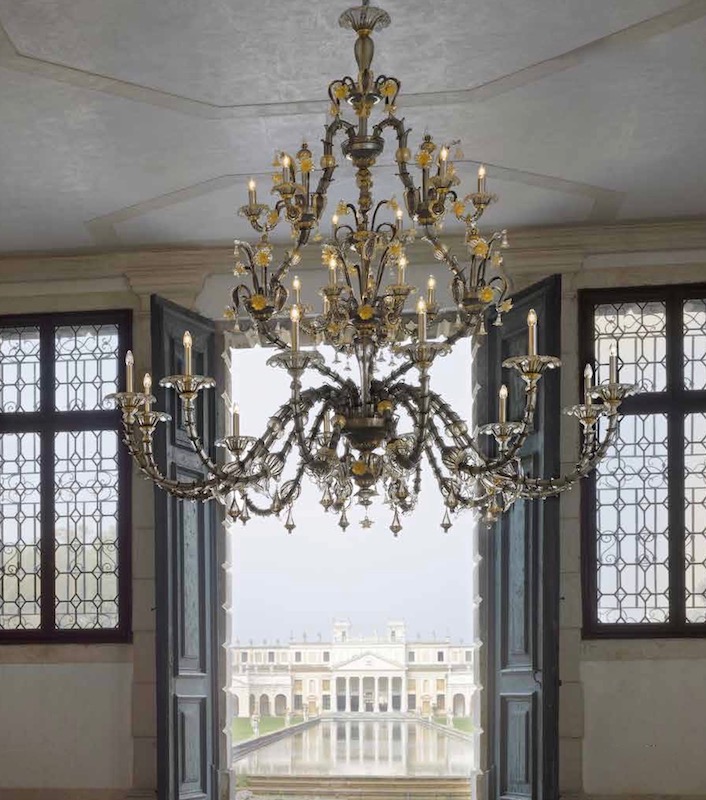 Extreme customization
This type of chandelier lends itself well to modifications and customizations, precisely because of the metal structure which is the very soul of the chandelier which will then be covered by the bossette. Contact us to request a customized project, we also invite you to see our Ca chandeliers Rezzonico specifically designed for the Guglielmo Marconi telematic university in Rome.