Publication date: 9/12/2023
Modern ceiling lights for the kitchen: elegance and functionality
Welcome to our exclusive collection of modern ceiling lights suitable for kitchen use. Each piece is a refined example of craftsmanship and design, combining the century-old tradition of Murano glass with contemporary and classic styles to suit any environment. Murano glass is renowned throughout the world for its incomparable quality, brilliance and the art with which it was worked. For centuries, Murano artisans have perfected the art of glass creation, making each piece unique and unrepeatable.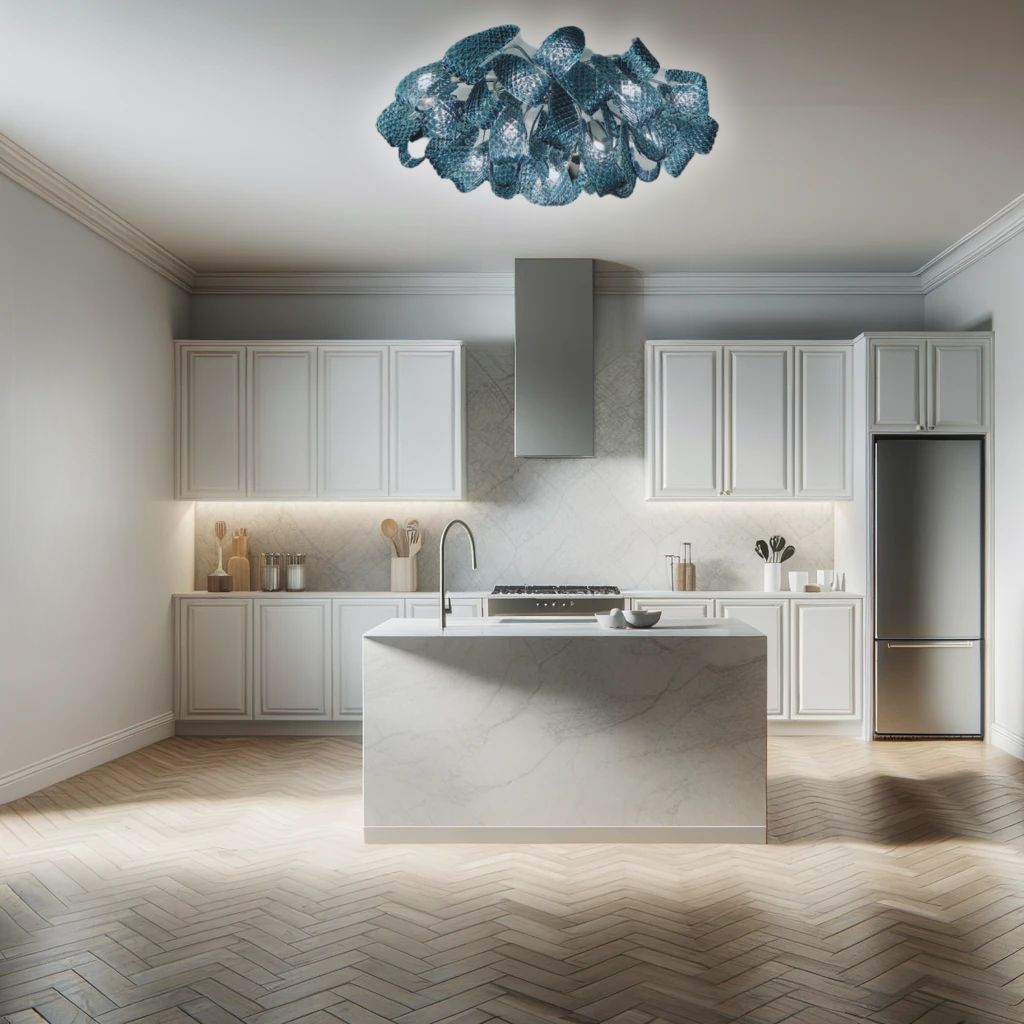 Our ceiling lights are available in a variety of charming colors that reflect the natural hues and depth of Murano glass: 1. Crystal: A pure, transparent shade that reflects light beautifully, creating a bright and airy atmosphere in your kitchen. 1. Amethyst: A deep and seductive purple color, ideal for those looking for a touch of elegance and uniqueness. 1. Crystal and 24k Gold: The combination of crystalline Murano glass with shades of pure 24k gold offers timeless opulence, bringing a touch of luxury to your kitchen. 1. Smoked: A delicate smoked gray color that adds a modern and sophisticated touch, perfect for contemporary kitchens. 1. Amber: A warm and enveloping color reminiscent of the shades of honey and raw amber, ideal for creating a welcoming atmosphere.
Murano glass: Tradition and Elegance
The ceiling lights on this page are made of authentic Murano glass, a very high quality material, known throughout the world for its brilliance and durability. Produced in the famous Venetian furnaces, Murano glass represents a centuries-old tradition that combines craftsmanship and innovation.
Refined colors
Our collection offers a variety of shades to satisfy every aesthetic need. From the transparent and luminous colors of crystal, to the depth and richness of amethyst. If you are looking for a regal touch, you can opt for crystal and 24k gold ceiling lights, which shine and reflect the light in a unique way, creating warm and enveloping atmospheres. For those who love more intense shades, smoky and amber are the ideal choice, adding depth and character to the environment.
Modern and Classic Styles
Our range of ceiling lights embraces both modern and classic styles, ensuring that every customer can find the perfect solution for their kitchen. The clean and geometric lines of modern ceiling lights blend harmoniously with contemporary design kitchens, while the more elaborate and detailed shapes of classic ceiling lights are perfect for kitchens with a retro or traditional flavour.
---
Manin
From:
From: $1,143.64
Memmo
From:
From: $315.61
Eridani
From:
From: $1,280.50
Bembo
From:
From: $987.44
Korinthos
From:
From: $471.00