Check our Modern chandeliers collection
Flowered chandelier
From: $3,592.62
---
Classic chandeliers
Magnificent and original chandeliers, refined finishes and top quality because there are so many ways to make a chandelier, ours are simply the best.
Why buy a classic chandelier from Murano glass Shop?
After installing a chandelier the thing that our customers tell us more often is that they receive many compliments from their friends and that once you have installed our chandeliers everything is more beautiful and the house acquires a new soul.A classic environment it can be illuminated by a new light that enriches the environment and gives the elegance that is lacking to enhance your classic decor. Obviously a classic chandelier can also be an excellent complement to a modern environment creating an alternation of styles.
Venetian chandeliers only for classic settings?
Absolutely not, classic and modern go together incredibly well, also thanks to the use of our super clear and impurity-free crystal.
Customize a classic chandelier
Obviously the beauty of an artistic product lies in personalization! In this regard, do not hesitate to contact us and possibly send us photos of the environment in which you would like to install a chandelier. We will provide a feasibility study and provide all the advice to create a custom chandelier!
Spare parts for your chandelier
For all our chandeliers are available original spare parts, think before buying a chandelier from a retailer that does not offer this possibility in the long run!
Colors in fire!
The crystal is transparent and pure as light, but our colors are also! In fact, the MGS will never produce a chandelier painted with chemical resins, our colors are all made using natural minerals that melted in the hot glass give a thousand shades depending on the thickness of the glass.
MGS
We have been producing and selling chandeliers on the web since 1999, we have grown together with you and we will continue our passion to create ever more beautiful chandeliers!
Chandeliers: a guide to a conscious purchase
---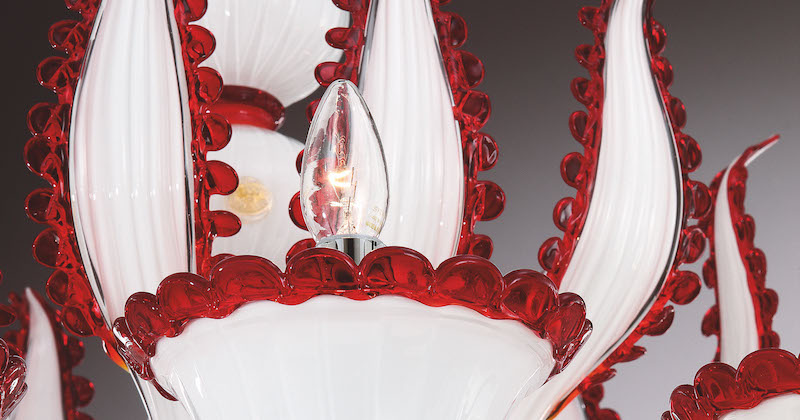 Chandeliers, conscious purchase
Read our guide for an informed purchase!