---
Modern White Chandeliers
The beauty of modern white chandeliers lies in their simplicity, elegance and ability to integrate into various furnishing contexts. A white chandelier is not just a light source; it is also an element that can define the atmosphere of a room and serve as a focal point within a space.
The purity of the white color
White is a neutral color that evokes purity, clarity and minimalism. In a modern design, a white chandelier can have clean lines, geometric shapes and a refined aesthetic. This type of lighting can shine alone or in contrast with bolder colors or particular textures in the room.
Examples of Furnishings
Minimalist living room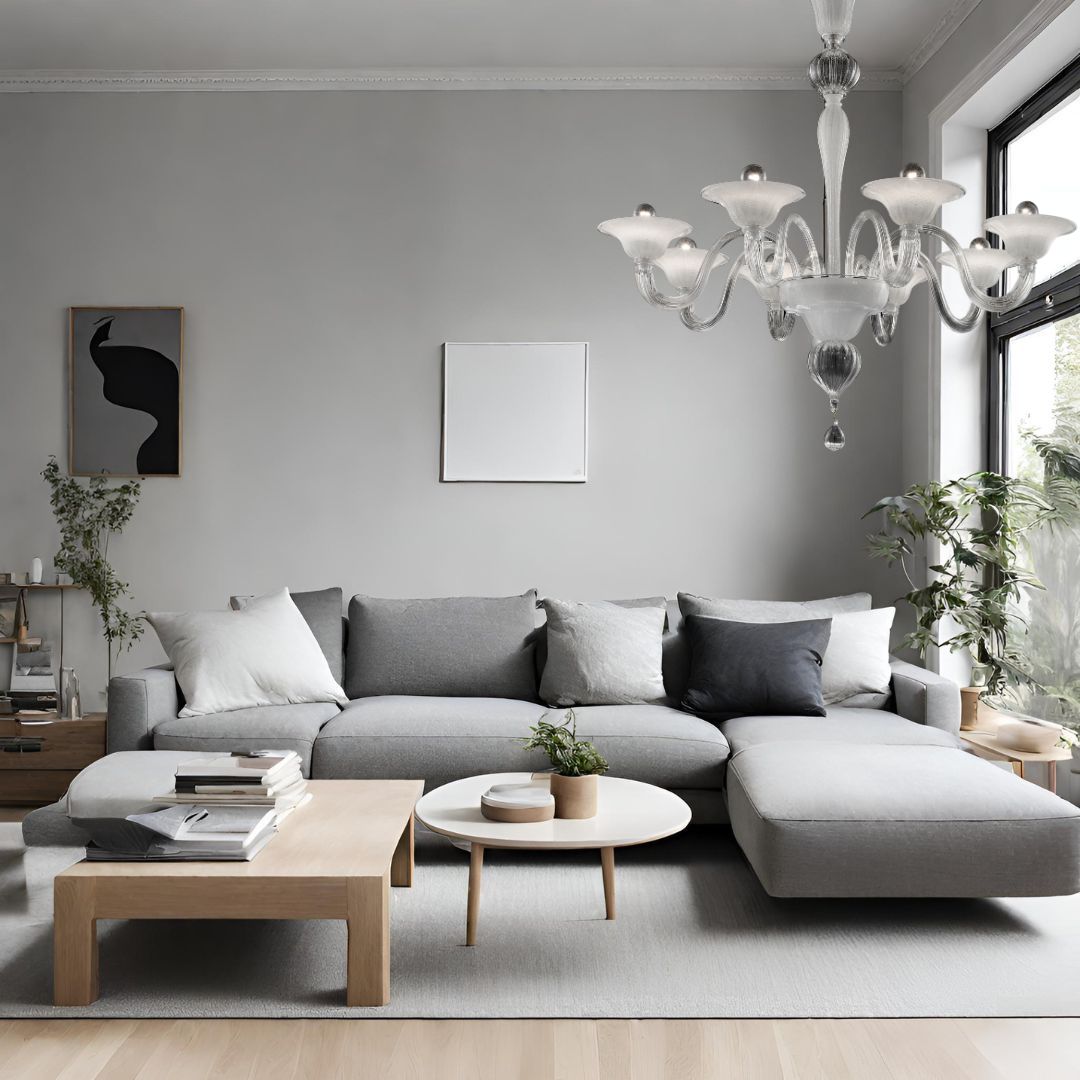 Imagine a living room with white walls, light wood designer furniture and a large gray sofa. In the center, a white hanging chandelier with a geometric shape can become the focal point, radiating a soft light that creates a welcoming atmosphere. A minimalist living room places emphasis on simplicity, functionality and free space. Here are some of the main features of a living room with a minimalist design: 1. Less is More: The basic rule of minimalism is to have less stuff. This means having only the essential elements in the living room, eliminating the superfluous. 2. Neutral Colors: Neutral colors such as white, gray, beige or light brown are predominant. These colors create a calm and peaceful environment. A color accent can be introduced, but in a limited and well-considered way. 3. Clean Lines: Furniture and accessories often have simple designs with clean lines, without frills or intricate details. 4. Functionality:Every piece of furniture or accessory has a purpose. If it's not functional or necessary, it has no place in a minimalist living room. 5. Large Free Space: By avoiding clutter, the living room will have more free space, contributing to a feeling of openness and tranquility. 6. Few Accessories: The accessories, such as cushions, carpets or paintings, are carefully chosen and are few. When they are present, they often have simple colors and designs. 7. Simple Lighting: Lighting is often discreet, with simply designed lamps or spotlights. Natural light is highly valued, so large windows without heavy treatments are common. 8. Low Furniture: Furniture often has a low silhouette, contributing to a sense of spaciousness. 9. Natural Materials: Although the color palette may be limited, the use of natural materials such as wood, glass or natural fibers adds texture and warmth to the environment. 10. Order and Organization: Order is key in a minimalist space. This means having well-designed storage solutions, such as multifunctional furniture or built-in containers, to hide clutter and maintain a clean space. 11. Avoid Excessive Decoration: Unlike other styles, minimalism avoids heavy decoration or intricate ornamental details. The emphasis is placed on simplicity and essentiality. Remember, while these are common characteristics of a minimalist living room, minimalism is also a personal philosophy. It's about finding what works for you and creating a space that truly reflects your needs and lifestyle, eliminating the superfluous.
Modern Kitchen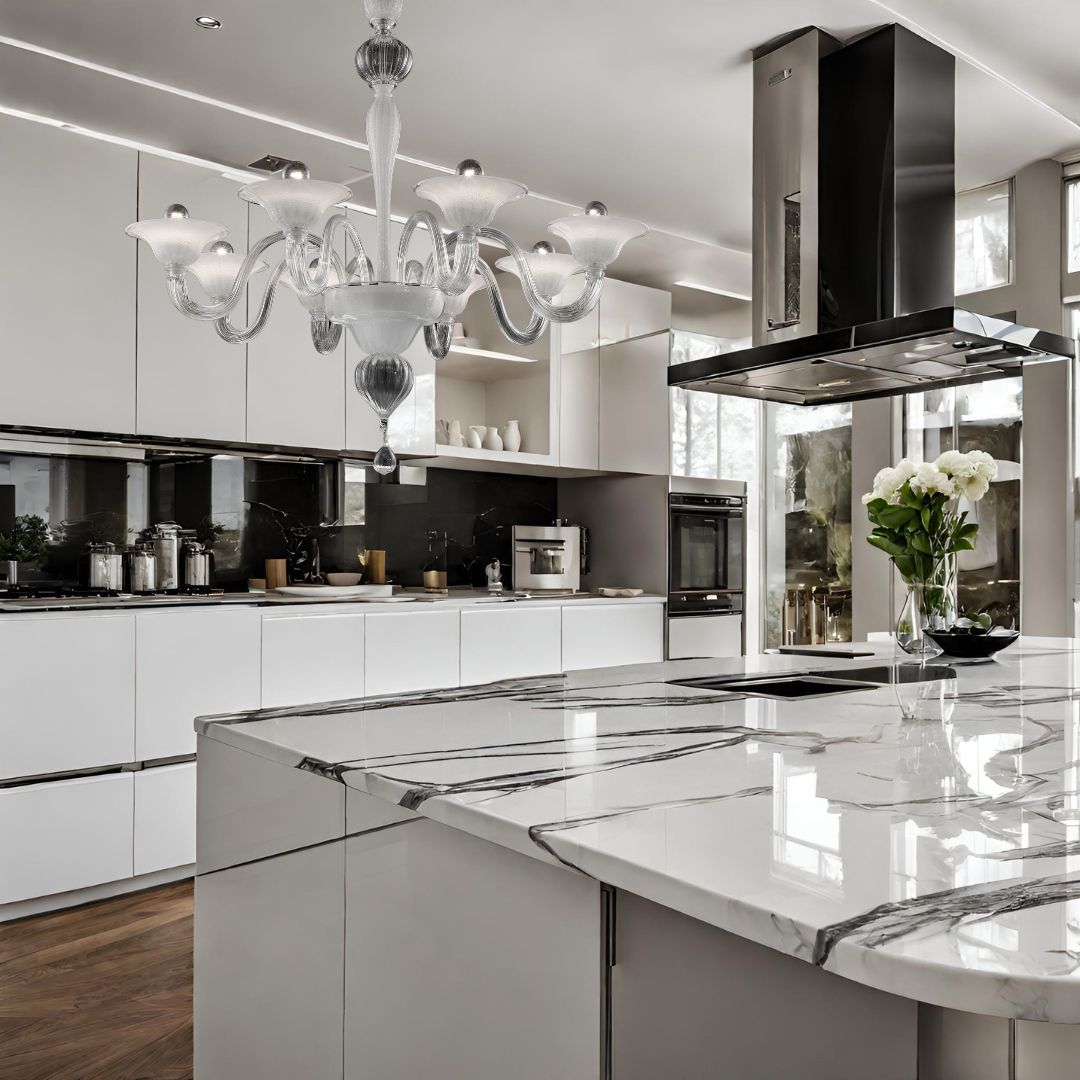 In a kitchen with glossy cabinets and white marble tops, a modern white chandelier above a center island can add a touch of class, combining functionality and style. A modern kitchen stands out for its design, functionality and use of advanced technologies. Here are some of the most common features you might find in a modern kitchen: 1. Minimalist Design: Clean lines, simple shapes and an absence of superfluous decorative elements are typical of modern design. Cabinets, drawers and other items often have integrated handles or push-to-open systems to maintain a clean, streamlined look. 2. Quality Materials: Stainless steel, glass, high-quality laminates, stone (such as quartz or granite) and solid woods (such as walnut or oak) are often used in modern kitchens. 3. High-Tech Appliances: Integrated appliances, such as ovens, microwaves, refrigerators, dishwashers and induction hobs, which offer advanced functionality and are often controllable via smart devices. 4. Innovative Lighting: In addition to pendant lighting and spotlights, many modern kitchens incorporate LED lights under cabinets or inside drawers for better visibility and a modern look. 5. Smart Storage Solutions: Internal organization systems, deep drawers, corner solutions and pull-out accessories are common to maximize available space. 6. Island or Peninsula: Many modern kitchens include an island or peninsula that can function as additional space for preparing food, eating or socializing. 7. Neutral Colors: Colors tend to be neutral, such as white, black, gray or beige, but can be paired with bright colors or wood accents to add warmth. 8. Modern Flooring: Materials such as porcelain tile, wood or high-quality vinyl are common in modern kitchens. 9. Smart Technology: Some modern kitchens are equipped with smart technologies, which allow you to control appliances, lights and other devices through voice assistants or smartphone apps. 10. Respect for the Environment: There is a growing awareness of the importance of sustainability, so it is common to find energy-efficient household appliances, eco-friendly materials and waste recycling solutions. 11. Functional Faucets and Accessories: Faucets with touch or hands-free sensors, water filtration systems and other functional accessories are increasingly popular in modern kitchens. Each modern kitchen can vary based on the homeowner's personal tastes, needs and budget, but these features offer a good overview of what you might expect.
Scandivan Bedroom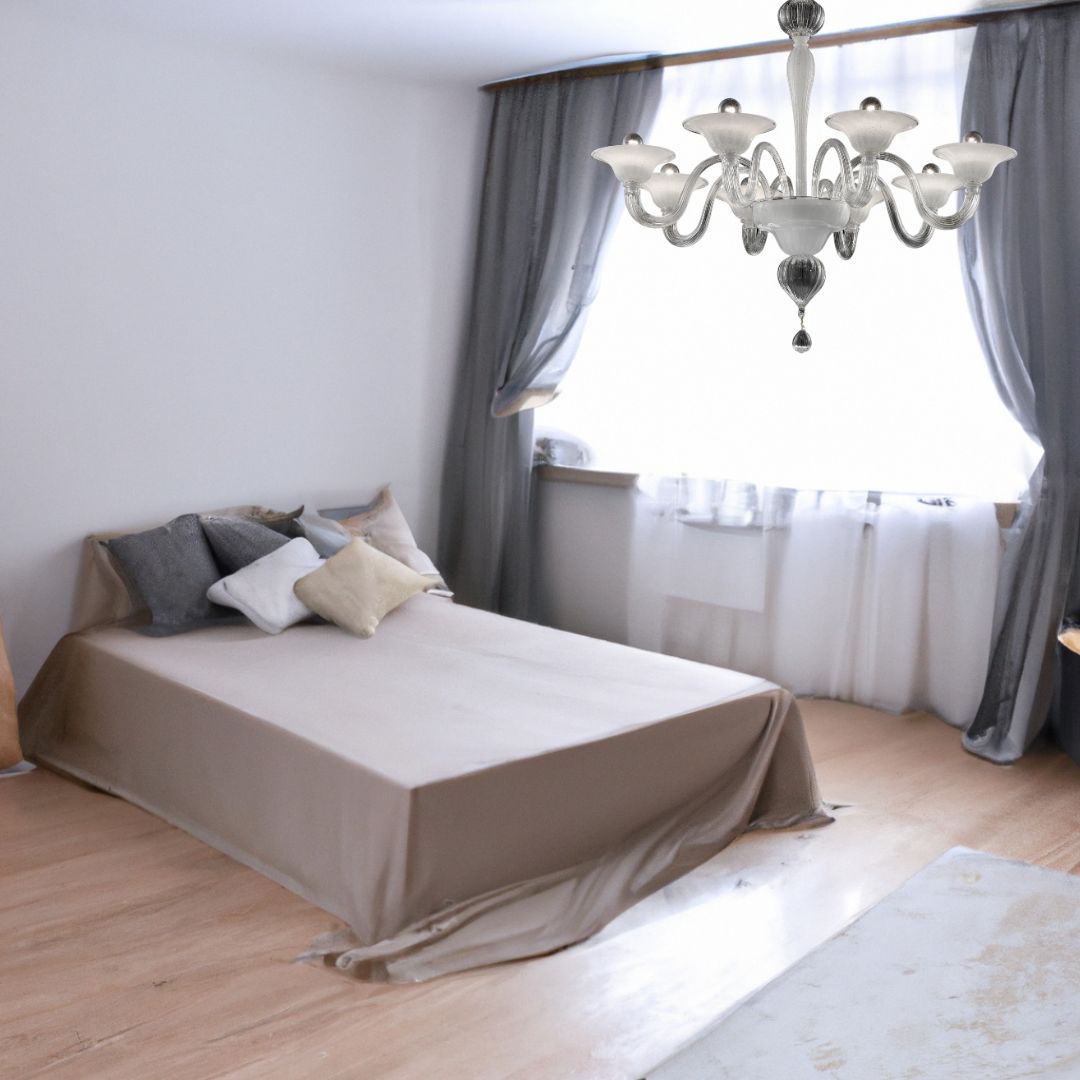 A bedroom with shades of beige, natural fabrics and light wood can be illuminated by a simple, linear white chandelier, adding a sense of serenity. Scandinavian design is known for its simplicity, functionality and connection with nature. The Scandinavian minimalist bedroom is a perfect example of how these principles are put into practice to create serene, welcoming and functional environments. Here are some of the distinctive features of Scandinavian minimalist rooms: Neutral and Bright Colors: The color palette tends to be dominated by neutral and light tones, such as white, beige, light gray and pale blue, reflecting light and making spaces brighter , especially during the long Nordic winters. Natural Wood: Wood plays a fundamental role in Scandinavian design. Whether it's floors, furniture or decorative details, wood, especially in light shades like pine or oak, adds warmth and texture to the environment. Functionality: Each element has a well-defined function. Excess and clutter are avoided, and furniture is often multipurpose, such as beds with storage space underneath or bedside tables with drawers. Natural Fabrics: Linen, cotton and wool are common fabrics in Scandinavian bedrooms. These materials not only add comfort, but also a feeling of authenticity and connection with nature. Cozy Lighting: Due to the limited hours of natural light during winter, lighting plays a crucial role. Table lamps, chandeliers and candles create a welcoming atmosphere. Plants and Natural Elements: Indoor plants and other natural elements, such as stones or shells, can be present to bring a touch of nature to the interior. Simple Furniture Design: Furniture tends to have clean lines, simple shapes and no superfluous details. The emphasis is on quality and durability rather than excessive decoration. Simple Art and Graphics: If present, artwork or graphics tend to be simple and not overloaded. These could be black and white prints, botanical illustrations or natural landscapes. Minimal Accessories: Even though the design is minimalist, accessories such as pillows, blankets and rugs are often used to add comfort and texture. However, the approach is always measured and never excessive. Connection to the Outside: Where possible, windows are left uncovered or with light curtains to maximize natural light and connection to the outside.
Advice
1. Dimensions: Before choosing a chandelier, measure the space in which it will be placed. Make sure the size of the chandelier is proportionate to the room.
2. Light Intensity: Consider the desired lighting effect. Do you want direct or indirect light? There are modern chandeliers that allow you to adjust the intensity of the light, ideal for adapting to different needs.
3. Decor Style: Even if you are considering a modern white chandelier, there are many variations in terms of design. Choose a model that integrates harmoniously with the existing furnishings.
4. Maintenance: Consider ease of cleaning and maintenance. Some chandeliers may require regular cleaning to maintain their bright appearance.
In conclusion, modern white chandeliers offer a mix of functionality and aesthetics, and with the right choice, they can elevate the look of any room.